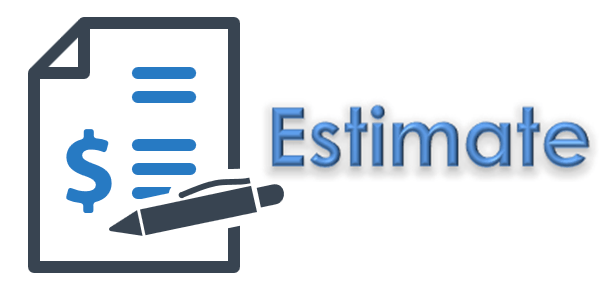 Click to complete our free online estimate request!
It is imperative for us that the estimate process goes extremely smooth and that our concrete expert really understands the scope of work to be completed. So when you work with
Denver Concrete
, you will want to make our team the very first call that you make during the shopping process, as we deliver not only an estimate but we deliver our project notes as well. Our project notes will allow you to take your project to other contractors and it will have pictures as well as descriptions and measurements of your entire project. We know that you need to shop your project, after all, how do you make an apples to apples comparison in pricing unless every contractor is on the same page?
We have been told many times from many different customers that this part of the process is completely unique to Denver Concrete Inc. (and of course Denver Concrete Company as well, Cade Lee, was one of the original founding partners of Denver Concrete Company and implemented this part of the process early on).

Fast and Convenient
Our team works extremely hard to deliver estimates as fast as possible. Every project that Denver concrete takes on, we visit in person before giving an estimate. There are some circumstances where we have plans (delivered by the customer) and we are able to give an estimate over the phone, however most of the time. All estimates require that our concrete experts arrive in person to inspect the project site for challenges as well as advantages. The more difficult the job is, of course, the more budget is needed to cover manual labor versus using equipment.
You can depend on receiving an estimate within 24 hours of meeting with your concrete expert at Denver,. We are so emphatic about you receiving your estimate within 24 hours that if when I can I give discounts for that countable ship.
Project notes
Above is an example of our project notes for a most recent project. Here a customer can see all aspects of the project that are being considered and can correct the scope of work making certain that all aspects of the project are being reviewed and agreed upon. Click on the image for a lager version or check out our page on project notes here
Project notes are started the minute that you call in to Denver Concrete Inc/ Project notes allow us to keep a general record of your project, what is to be completed and the most important challenges for the project.
When your concrete expert arrives at your home or business, they will already have an overhead shot of the property where work is to be completed and they will be going through the scope of work to be completed with you. During that time they will be taking pictures of the property and getting measurements of the areas where work is to be completed.
The Design Process
If the design hasn't already been completed for our concrete expert to review, they will start establishing design requisites or parameters from you in order to develop the most accurate estimate that we can. The communication process with our customers is key to having a successful project. So, while we definitely strive to get our estimates out within 24 hours of meeting with our customers, some estimates may take longer because of custom design or additional materials that might make pricing a little bit more challenging.
Closed estimates or bids
We hear from our customers all the time that when they have worked with other contractors, they were quoted one price in the beginning and after they got started they were quoted additional costs or the estimate was changed and in most cases significantly. Our team works extremely hard to avoid this type of result and so we are constantly communicating with our customers through email, text and phone calls. Our team works very hard to keep all communication central so that other team members may work on the project and have knowledge of past experiences that our customers had with our team.
All Denver Concrete Inc. estimates are closed ended, which means that our estimate will not change unless the scope of work to be completed has changed significantly. At that time our concrete experts will talk to our customers about a "change order" and additional costs or fees that may be associated with the change in the scope of work to be completed.
We want for all of our estimates to be dependable and earnest, we will never give a low estimate in order to win a contract. Our estimates will be reliable from the beginning. That way our customers can make educated decisions as to what they want to do. There is nothing worse than being misquoted and misdirected and we understand that.