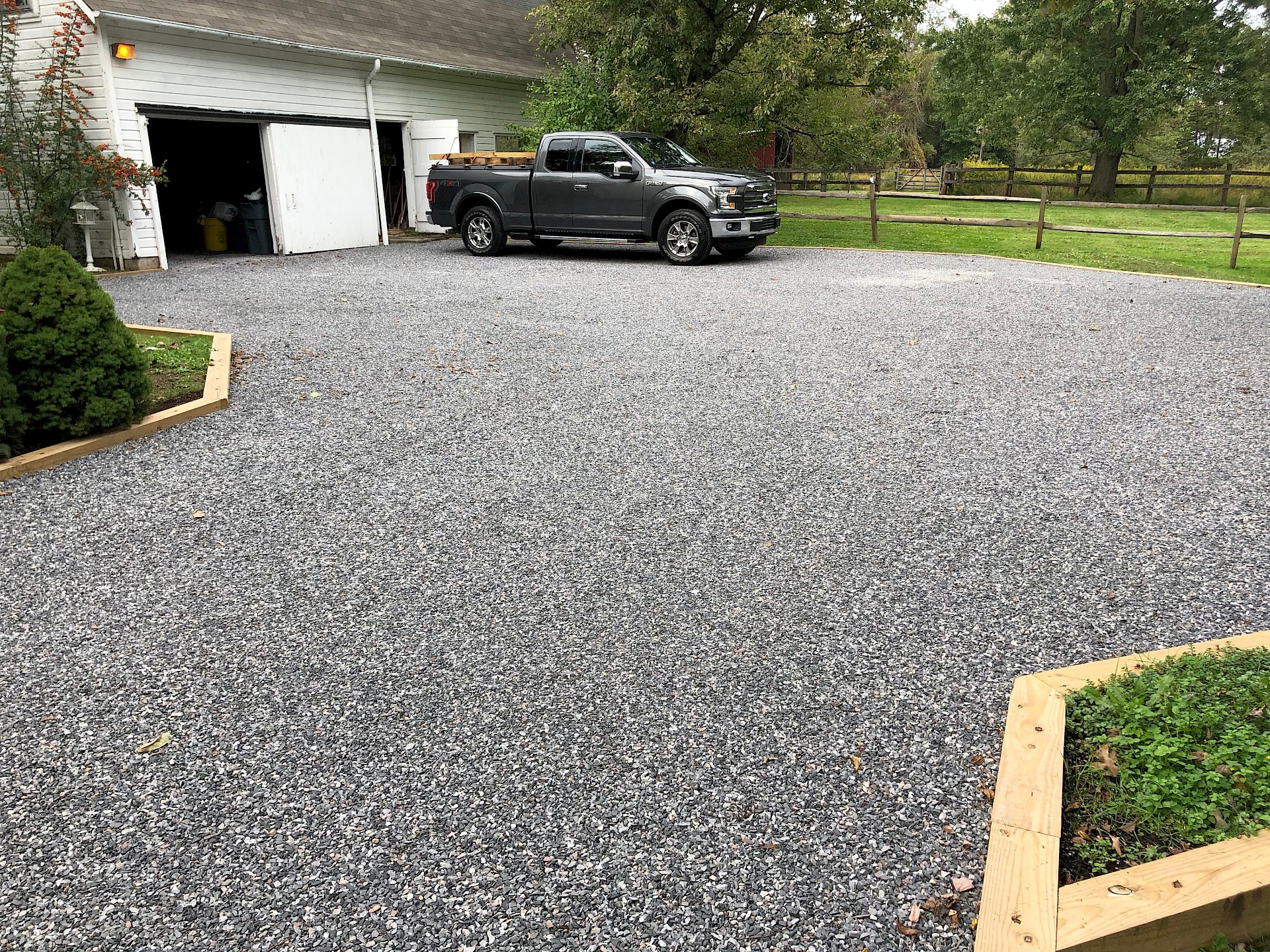 You might be thinking of cobblestone initially when we say stone driveway and although that would make sense, what is meant by this is actually a "gravel driveway". So, it is important to note that Denver Concrete Inc. does not make gravel driveways a "flagship driveway", it is something that we do offer to customers.
One of the more common questions that we encounter when we are out in the field completing estimates is, "how much would it cost to install a gravel driveway?" So we thought it made sense to go ahead and answer these questions on our website.
With that being said, gravel or stone driveways are much cheaper than concrete driveways. They are faster to complete, and if the project is prepared well the driveway will stand up to the test of time with some regular maintenance. As a matter of fact in almost all of the cases that we have worked on, gravel driveways are a fraction of the cost of a concrete driveway.
What does it cost to install a gravel or stone Driveway in Denver?
Prices below are full service pricing PER SQUARE FOOT
| | | | | |
| --- | --- | --- | --- | --- |
| Square Footage | Gravel Driveway | Road Base Driveway | Concrete Driveway | Asphalt Driveway |
| 501 – 1000 | $2.00 | $3.00 | $8.00 | $4.50 |
| 1001 - 2500 | $1.75 | $2.50 | $6.75 | $4.25 |
The pricing seen here has been taken from average competitor pricing (including our own) as well as an average of material costs in the Denver area only. Of course these prices are just a guideline and not all inclusive. Every project is definitely unique in its own way so it is important to speak with your consultant about a specific estimate.
In this video the pricing of concrete driveway versus a gravel driveway is explored.
Obviously the pricing for a gravel driveway is one of the cheapest possible solutions that you can find for completing a brand-new driveway install. The drawback to installing a gravel driveway is the look, it's definitely a more "rustic" look and isn't the best solution for all driveways. Nonetheless, a gravel driveway definitely offers an option that is much cheaper than asphalt or concrete.
Installing a new gravel or stone driveway isn't as simple as bringing the material out, spreading it out over the area which is to be the new driveway and then calling it a day. Denver Concrete Inc. might work a little different than other concrete contractors, there is a significant amount of preparatory work that goes into any driveway. A gravel driveway is no different.
So although there is a great amount of effort that goes into preparing the base of the new driveway, installation process is definitely much easier than that of concrete or asphalt. With a gravel driveway we would begin with excavation, in order to build the new base for our driveway we will need to dig out an area for our new "driveway base". The base is critical for any driveway, especially with the gravel driveway.
Compacted Driveway Base
The image above shows what freshly compacted driveway looks like. The material used for this base is road base, it has been comacted with a "jumping jack". This is completed before the installation of gravel.
Installation Gravel Driveway | Stone Driveway
For our stone and gravel driveways we always install a compacted base, this requires excavation of around 6 inches in order to accommodate a 4 inch base for which is compacted. The base prevents the driveway from major "heating" and also helps stop "wash boarding". There is nothing worse than driving on a horribly installed gravel driveway. Just because you elected to install a gravel driveway doesn't mean that it should not function just as well as any other kind of driveway.
After removing 6 inches, Denver Concrete Inc. would come in and install 4 inches of road base. After the road base has been spread out evenly, the next step would be to compact the base. This is done using a compaction plate or jumping Jack, if the project is large enough than heavy equipment is utilized to compact the base of the new drive.
After installing the new base for the driveway, the final step is adding the gravel. Since gravel does not compact like road base or even recycled concrete it is not necessary to tamp the gravel top surface of the driveway. 2 inches of gravel or stone would be installed on top of the road base drive.
The last step is making sure that we complete final grade and water mitigation for the new driveway. It's important that we make and grade the driveway for proper water drainage.
As you can see, installing a stone driveway or gravel driveway definitely has its advantages over concrete (mainly financial). The maintenance for your new gravel driveway will require regrading from time to time, installing new material from time to time. By and large a gravel driveway is much less maintenance.